Throughout history, people used all kinds of tools to make their lives easier. First, it was parchment, then typewriters, and now with the help of technology and computers, online forms! As a business, institution, or freelancer, it is no doubt that you will get the advantage of using online forms with the help of an online form builder. When you use the right tool, it makes your life easier and makes the ability to collect data a piece of cake.
And, if you went through form builders, you may already know there is more than one good option to go with. And, Formsite is one of the most famous ones. However, as with all good things, it has its downsides too. That is exactly why we have gathered the 10 best Formsite alternatives to try out in 2023! Now, let us go into it.
Let's get to know Formsite first
Formsite is one of the most well-known form builders for its ability to encrypt form submissions. İt is a very safe way to collect data from your target audience. With Formsite, it is also possible to use graphs, tables, etc., for data visualization. Because it is a more result-oriented option, you can obtain results and statistics instantly.
It has more than 100 templates, 40 question types, and adjustable features. However, there is a big learning curve for newcomers, and the price can be too much for smaller companies. There is also no free plan option, as well as big price jumps between paid plans. Therefore, even if it is quite useful for data collection, it is not for everyone.
Top 10 alternatives to Formsite in 2023
Even though Formsite offers you a basic form creation process and helps you create online forms, you can always check other options to get the best deal. There are many form builders out there, and they offer similar capacities & features for different prices. This list will include 10 form builders that are alternatives to Formsite, their pros, cons, and, of course, prices.
1 - forms.app
forms.app is one of the most powerful and functional form creators. It offers more than 600 templates and quite a few flexible features. It is free, easy to use, and quite eye-catching. The free plan is very useful, and paid plans have adequate prices.
Pros:
Simple and fast
A lot of advanced customization features (calculator, conditions, product basket, etc)
No commissions to accept payments
Mobile adjusted
Ability to collect lawful signatures
Ability to share forms with a specific region using geolocation restrictions
Up to 1 TB storage unit
More than 600+ useful templates
Colorful designs and background images
Cons:
Limited payment options
product limit is 200
in the free plan, there is a limit to responses that can be taken
Price:
Free forever plan
Basic: 19 USD /monthly
Pro: 29 USD /monthly
Premium: 99 USD /monthly
For more information, see the pricing page.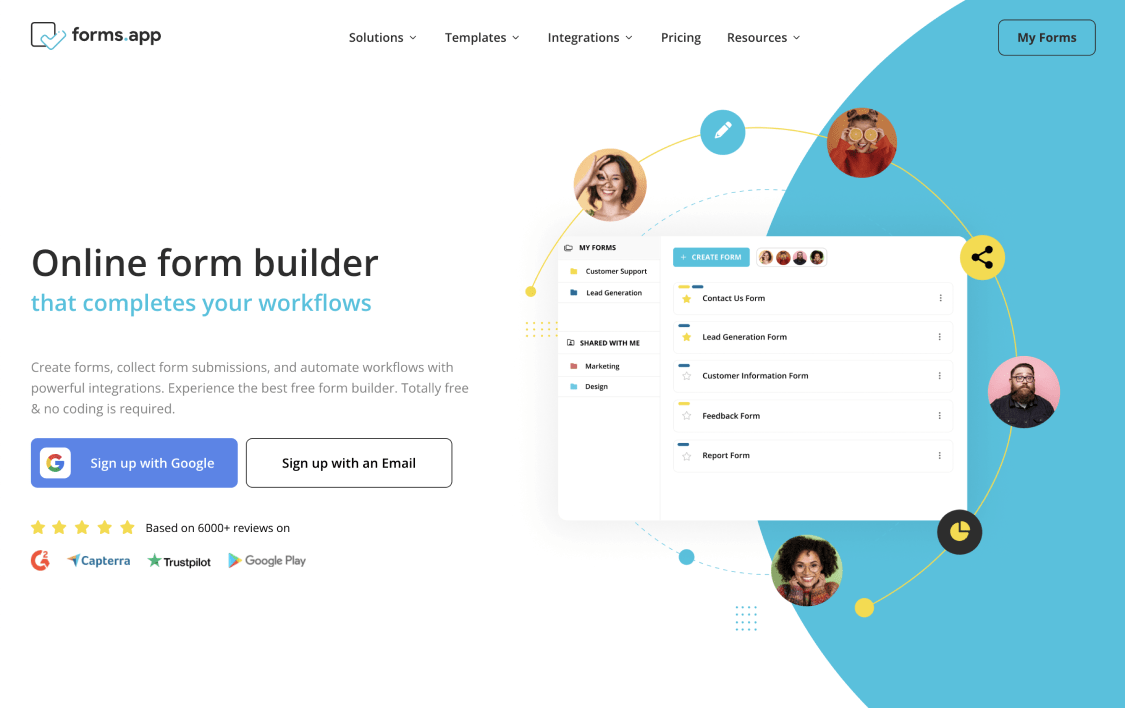 #1 Formsite alternative - forms.app
* * *
2 - Gravity Forms
Another good alternative to have is Gravity Forms. It is a form builder that enables making forms without knowing how to code effectively. Unfortunately, there is no available free plan, and it is only possible to use a 7-day free trial to see if it is suitable for you. Or, you choose a membership plan that is good for you.
Pros:
Ability to accept payments
You can add coupons to your forms
Customization, conditional logic, and drag-and-drop features
Ability to collect feedback
File storage
Easy-to-use
Available basic or advanced form fields
Integration possibilities with Zapier and HubSpot
Cons:
It is quite pricy as being one of the most expensive form builders
design options are a bit limited
There is no free plan available
Price:
Basic License: 59 USD /yearly
Elite License: 259 USD /yearly
Pro License: 159 USD /yearly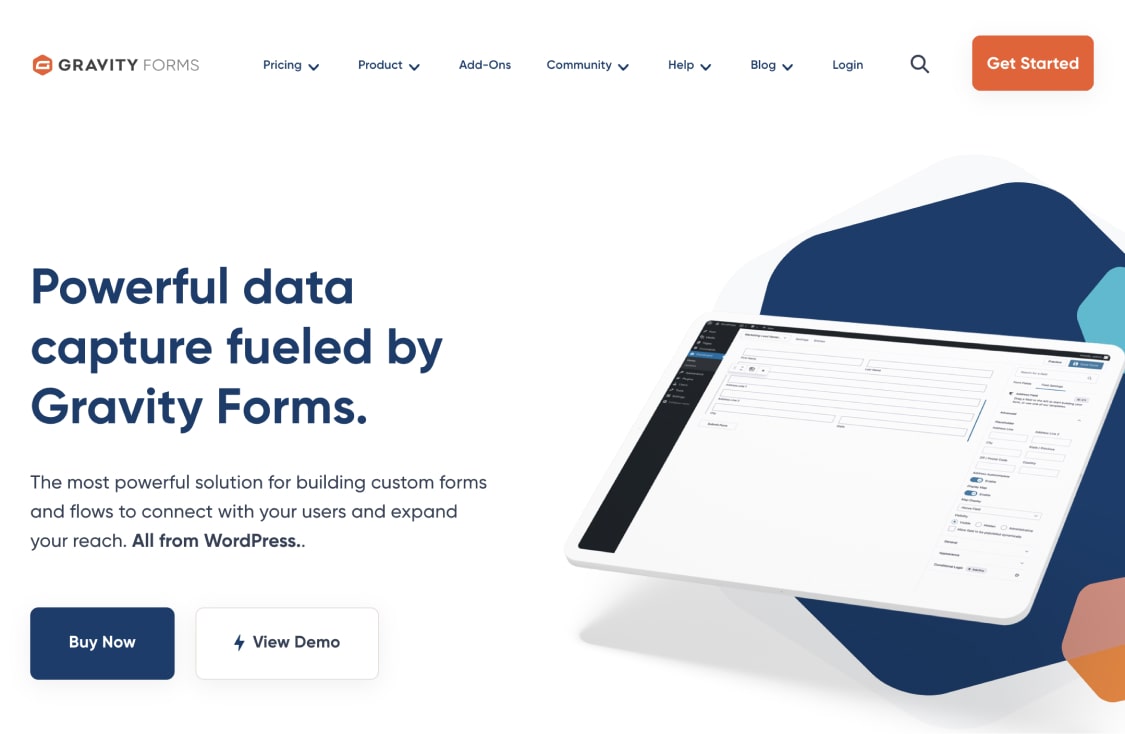 #2 Formsite alternative - Gravity Forms
* * *
3 - Wufoo
Wufoo is a cloud-based form builder that is quite useful and requires no technical knowledge whatsoever. Therefore it is another good alternative. Wufoo having eye-pleasing design options is one of its advantages. There is both a free plan and paid plans.
Pros:
drag-and-drop feature
Ability to customize the branding on the form
Ability to accept payments with the help of payment providers
Real-time notifications
Cons:
Tech support cannot be reached via phone. The only option is email communication
Free plan has limited functionality
Not a lot of design customization options
Price:
Free
Starter: 14.08 USD
Professional: 29.08 USD
Advanced: 74.08 USD
Ultimate: 183.25 USD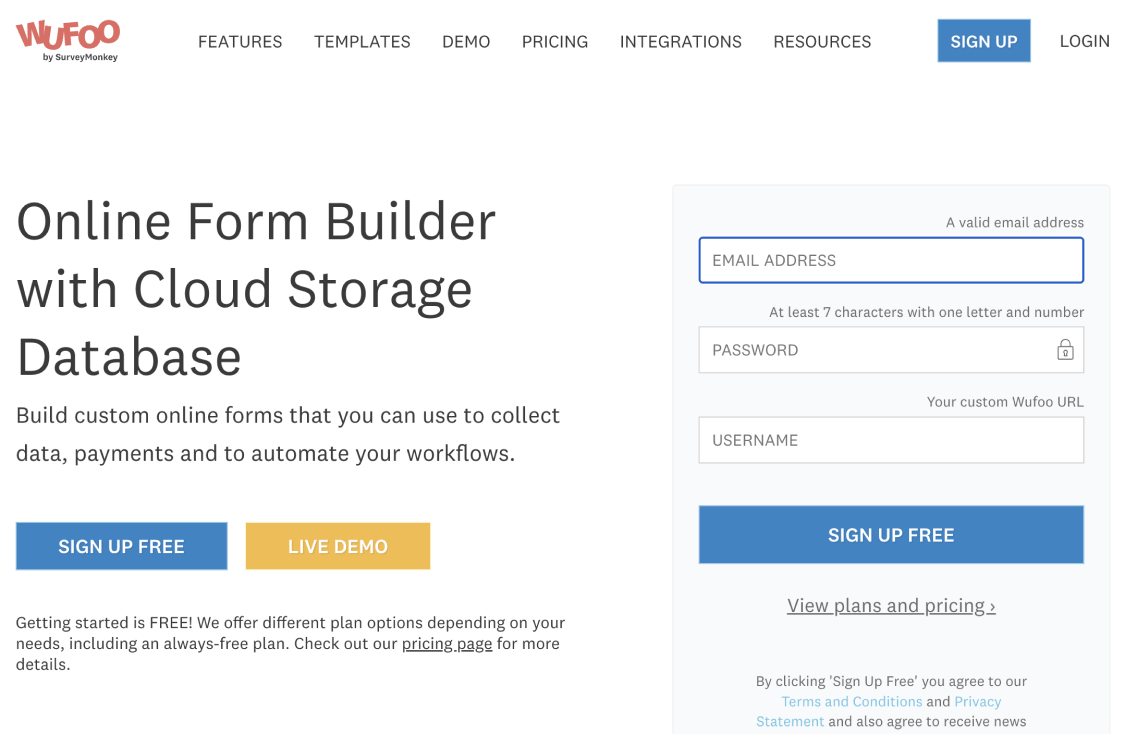 #3 Formsite alternative - Wufoo
* * *
4 - 123FormBuilder
123FormBuilder is a popular form builder used by more than 2 million people. Smaller and big businesses can create their forms using this form creator. It also supports more than 2000 templates.
Pros:
It is easy to use for anyone
Customization options are adequate
Available 50+ integrations with third-party applications and payment gateways
The ability to create multi-language forms
2000+ ready-to-go templates
You can set it to receive notifications via email
Conditional logic
Cons:
Customer service support is not enough
Automation setup can be slow for most people
What the free plan offers is quite limited
Lack of proper guidance to understand and make use of all the features
Design options are too few
It can be more fit for advanced users
Price:
Basic: free
Gold: 24.99 USD
Platinum: 44.99 USD
Diamond: 84.99 USD
Enterprise: 199.99 USD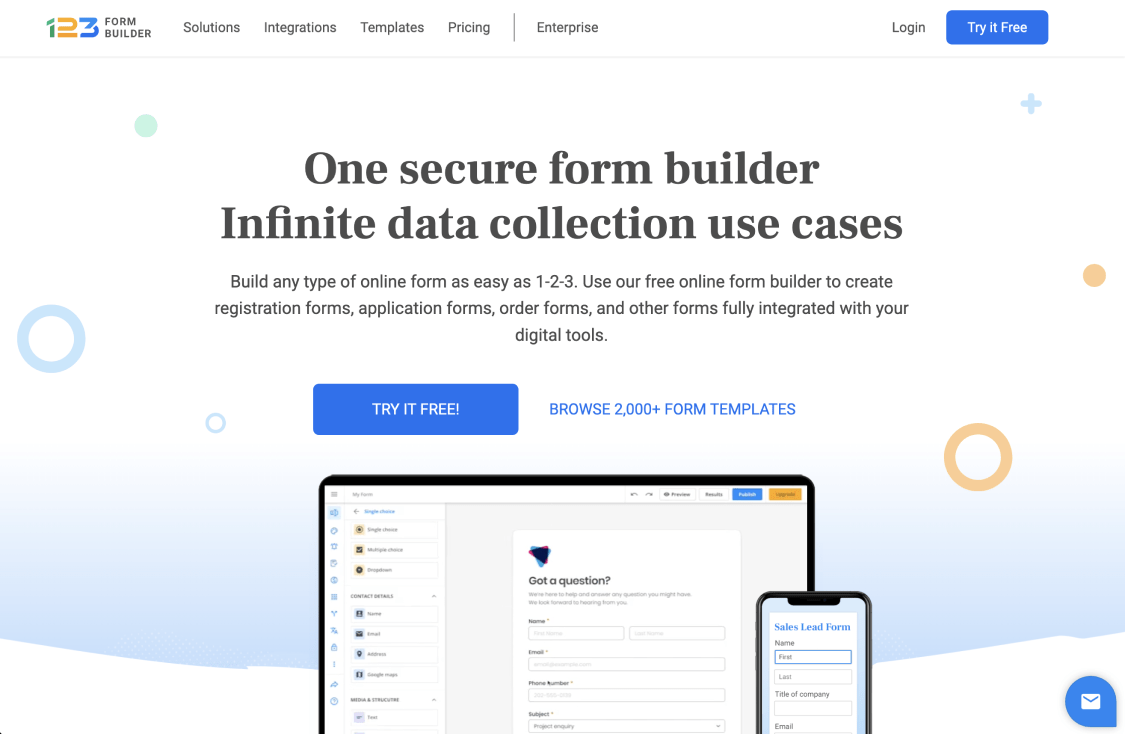 #4 Formsite alternative - 123FormBuilder
* * *
5 - Cognito forms
Cognito forms help you create functional forms with features such as conditional logic and calculator. You can easily collect data and process it with your forms. It offers a free plan as well as paid plans. There is also a 14-day trial to try it for free.
Pros:
Useful conditional logic
Compatible with mobile devices
Allows to share documents
Ability to Integrate with Zapier
You can safely accept payments with the forms
Ready-to-go template options
A 14-day trial period for any paid plans
Cons:
Analytics and reports are insufficient
In the free plan, storage capacity is quite limited (100 MB)
150+ templates available, and the choices are limited compared to others
It can be difficult to understand
Price:
Individual: Free
Pro: 15 USD
Team: 35 USD
Enterprise: 99 USD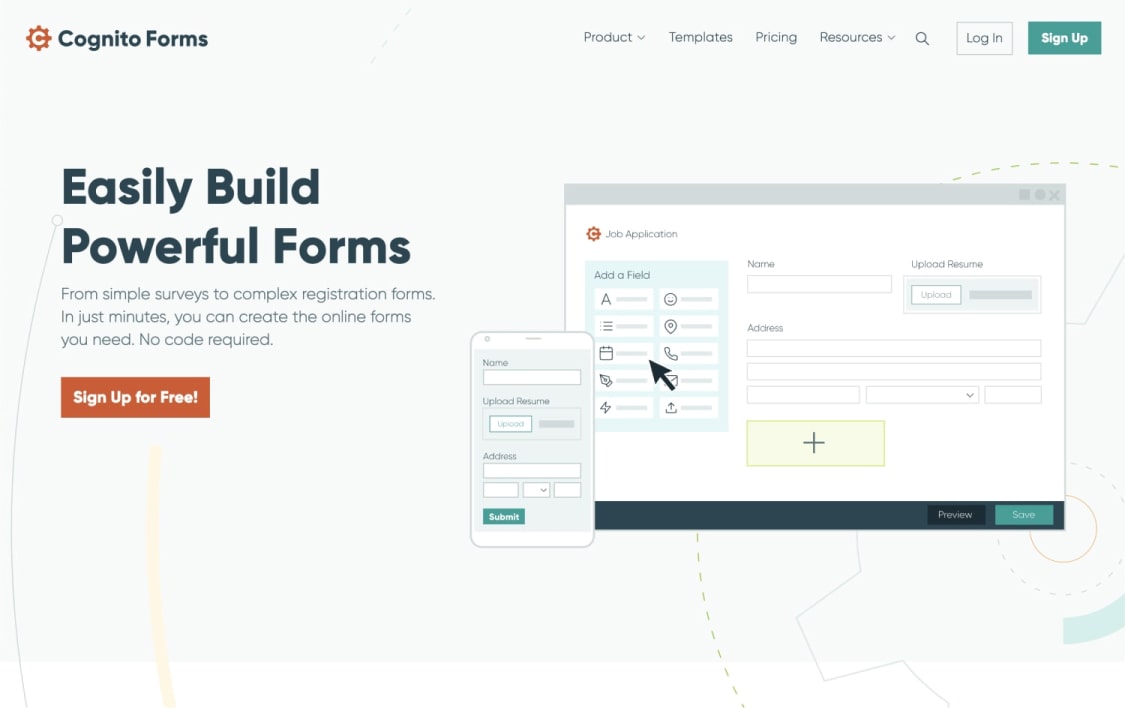 #5 Formsite alternative - Cognito Forms
* * *
6 - MightyForms
MightyForms allows its users to build online forms without any knowledge of how to code. There is no free plan option, and the starter paid plan starts at 19 USD per month.
Pros:
Ability to integrate your forms with Google Analytics
Ability to receive payments using stripe
Customize options
An abundance of free-form templates
Cons:
you can not convert your forms to PDF
Conditional logic is not practical
No free plan option, only a 7-day trial period
Price:
Starter: 19 USD
Pro: 39 USD
Business: 69 USD
Custom plan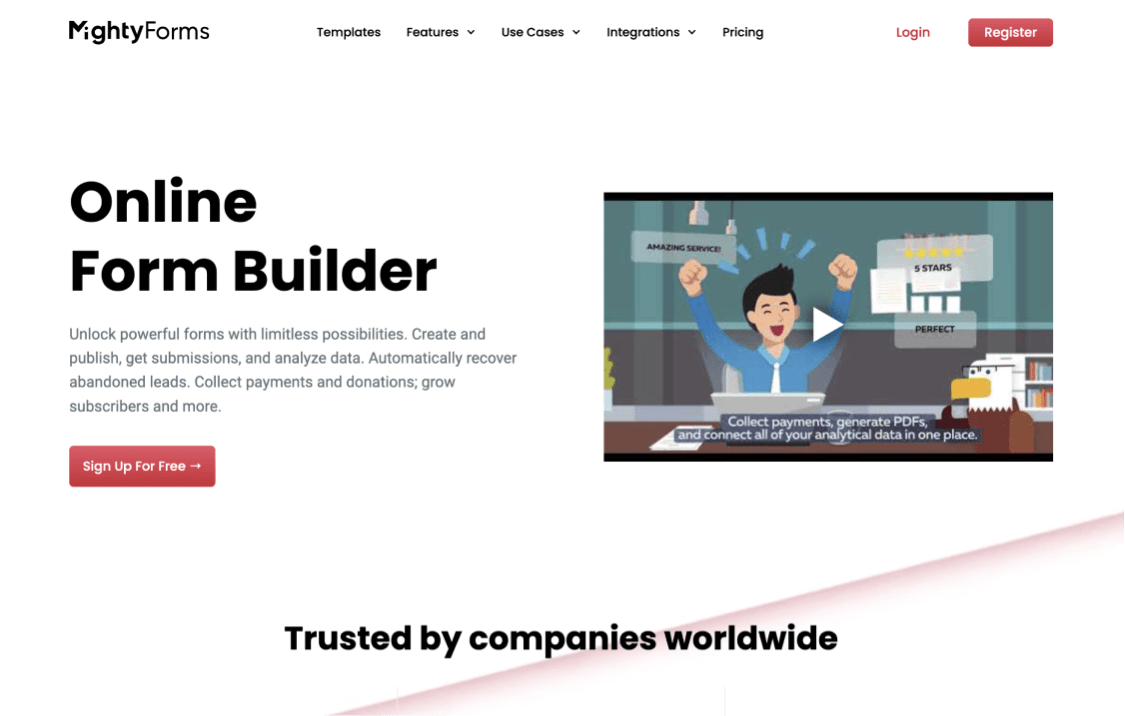 #6 Formsite alternative - MightyForms
* * *
7 - Zoho Forms
Zoho Survey is a cloud-based online form and survey creation tool. It is a suitable option for small, medium, and large organizations. It has all the necessary features to create functional forms and analyze the data you obtain. In order to create forms or surveys on Zoho forms, you do not need to know high-tech knowledge.
Pros:
Ability to export data and reports
250 nicely designed templates
Possibility of using offline surveys
Ability to Integrate with other tools
Customization ability on many features
Real-time notifications
Cons:
Ready-to-use template options are limited
Customer support response time can be improved
Zoho Forms can be a slow-moving platform as it can not handle so many users.
The free plan is limited
Price:
Basic: 10 Euros
Standard: 25 Euros
Professional: 50 Euros
Premium: 100 Euros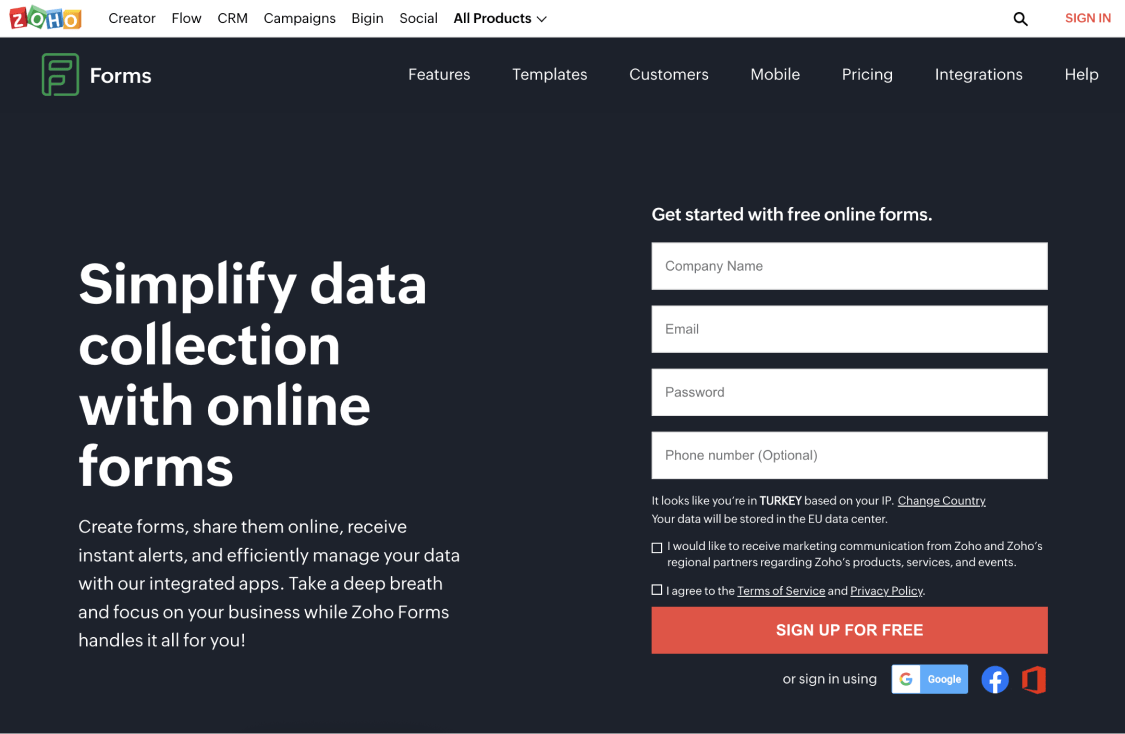 #7 Formsite alternative - Zoho Forms
* * *
8 - Kizeo Forms
Kizeo Forms is mobile friendly form maker tool. It is a good option to work as a team on this platform. Team members can create and share reports with others in multiple file formats thanks to this tool. Also, group leaders can create and handle setting up permission rights and data transfer processes.
Pros:
Easy to use
Drag-and-drop feature
Ability to use images, geolocations, checklists, voice messages, and electronic signatures.
Cons:
There are no available multiple-language options
Not very user-friendly, according to some users
Only a single paid plan option
Price:
Single plan: 18 Euros / monthly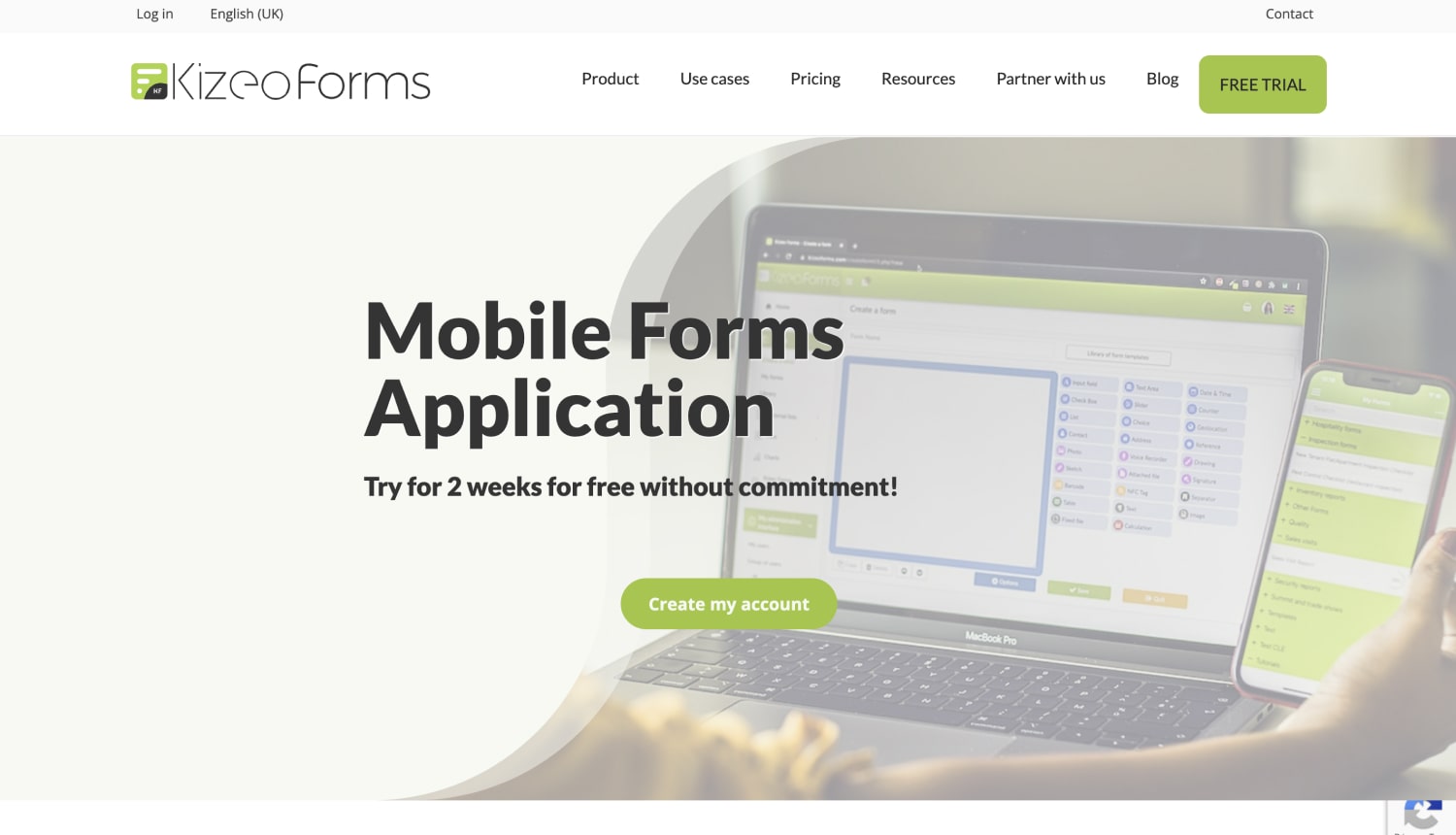 #8 Formsite alternative - Kizeo Forms
* * *
9 - Google Forms
When one thinks about free and accessible form creators Google forms is usually what comes to mind first. The main reason for this is that it is very easy to go through. But, this results in too few options and little room for creativity. There are only some basic templates to go with and few design choices.
Pros:
Completely free with no paid plans
Ability to customize the font and colors
Ability to integrate with various applications
Accessible to anyone
Basic conditional logic
Cons:
A limited number of templates, only 17
Limited design capabilities
Not many theme and background options
Can not collect payment and e-signature with the forms
Not suitable for big businesses
Price: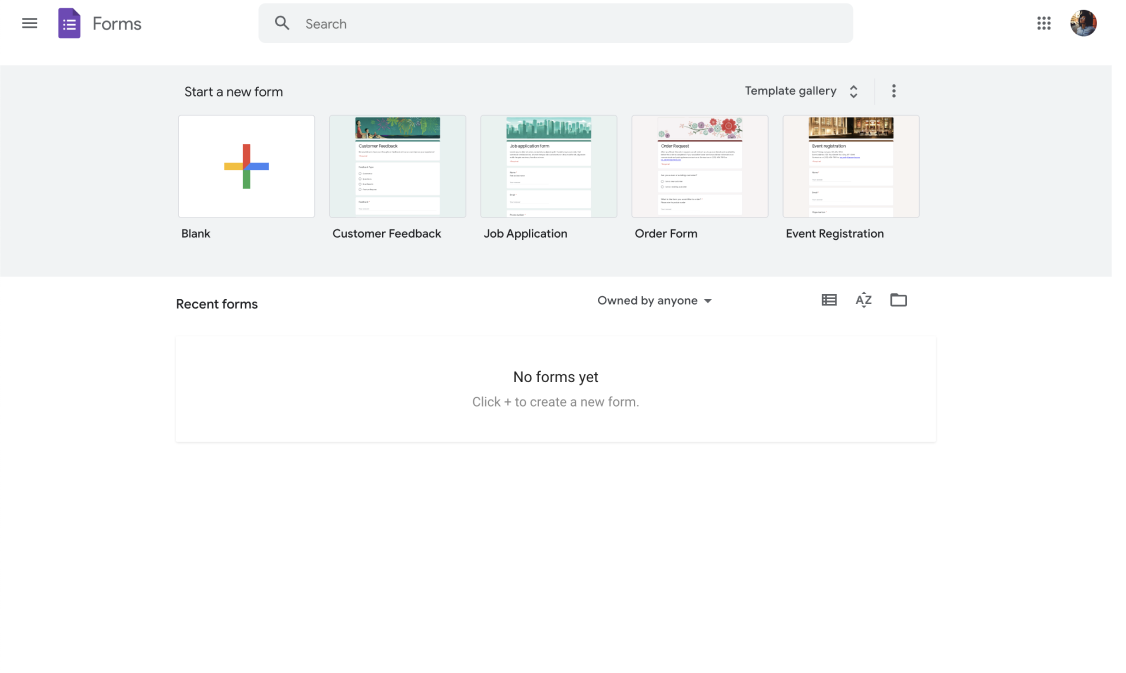 #9 Formsite alternative - Google Forms
* * *
10 - Formstack
Formstack is easy enough to use without the need for coding. Data collecting is simplified on this form builder. You can store private information in your forms and use conditional logic to go into necessary detail. There is no free plan option on this site.
Pros:
Conditional logic
Ability to collect e-signature
Mobile friendly interface
Ready-to-go templates
Drag-and-drop builder
A/B testing
Offline usage capability
Cons:
No free plan option
Only a 14-day free trial plan with limited features
Fewer ready-made templates than competitors
Price:
Forms starter: 59 USD /monthly
Platform teams: 250 USD /monthly
Enterprise: custom price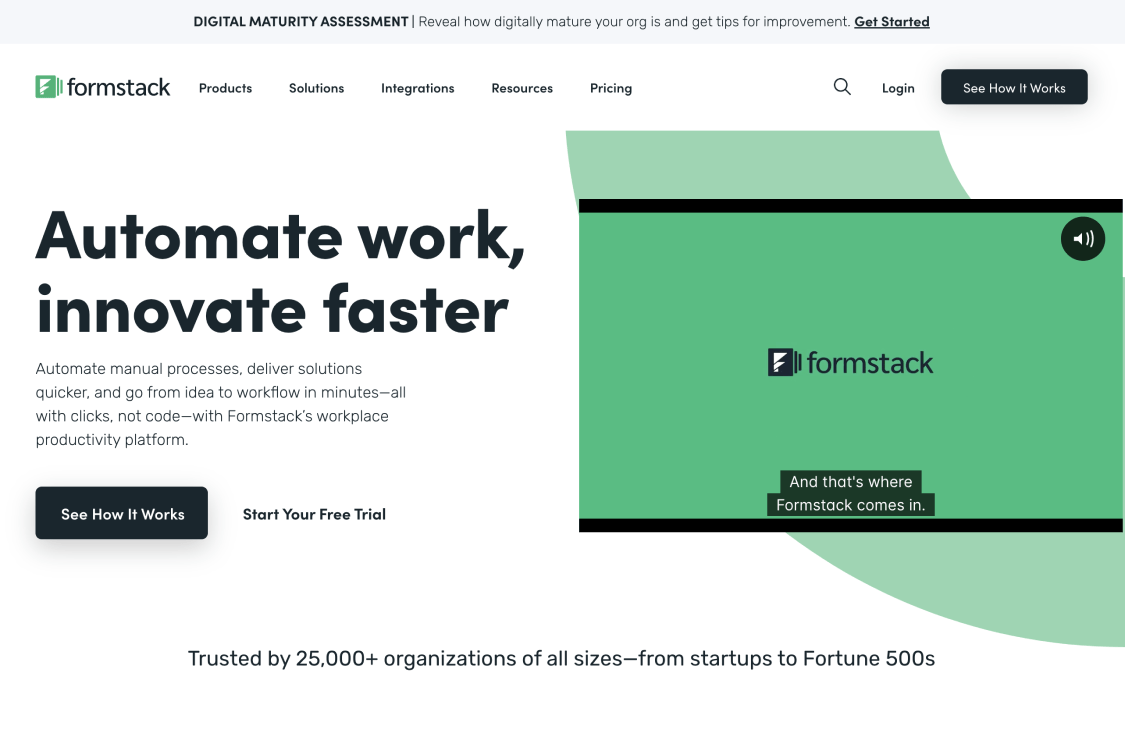 #10 Formsite alternative - Formstack
Wrapping it up
We have looked at 10 different Formsite alternatives and their features and pricings on this article. Some are better for smaller start-ups, and others are better for bigger companies. But, according to all this information, our conclusion is that the best one to go with is forms.app!
forms.app is a very useful, completely customizable, and easy form builder that suits everyone. forms.app allows its users to build pretty and functional custom forms in a matter of minutes. It is also a great survey tool, store builder, and quiz maker as well. There is something that will suit everyone's needs. Go to forms.app and see for yourself today!