forms.app's new HubSpot integration is out! We're excited to present this integration to our users, as it will help them simplify their workflow and always keep their contact lists up-to-date. If you're a HubSpot user, be sure to check out this guide on how to use this integration today!
What is HubSpot, and what can it do for you?
HubSpot is a powerful marketing and sales automation tool that can help businesses of all sizes to increase their website traffic, convert more leads, and close more sales. HubSpot's features include:
A robust CRM system that helps you track your leads and sales opportunities
Marketing automation tools to create and send personalized emails and social media messages
A wide range of integrations with popular business tools, including Salesforce, Google Apps, and now forms.app!
This integration allows businesses to add and update contacts with stylish forms, as well as create custom contact forms or use one of the many templates that are available. This makes it easy to collect customer data and keep your contact lists updated.
How does the new HubSpot integration work?
Similar to other forms.app integrations, the HubSpot integration is as simple as it gets. It is based on pairing up the form fields and using forms.app's advanced features as a part of your daily workflow with HubSpot.
As you are well-aware, forms.app offers perfect solutions for sales teams, like conditional logic, professional-looking designs, a scoring system based on answers, and more. By using forms.app, you can improve customer experience with forms and collect data more effectively. Now, let's see how we can enable and set up this integration on forms.app.
Here is a quick tutorial on how you can connect your forms with HubSpot:
1 - Create a professional form for your business:

2 - Click on the "gear" icon on the top and find integrations:

3 - Scroll down and choose HubSpot:

4 - Connect to your HubSpot account and authorize forms.app:

5 - Pair up the fields in your form with HubSpot properties:

You can only pair these fields up when they exist in your form. Make sure to add the necessary form fields for the data you want to collect or update.
6 - Enable adding companies or deals and repeat the pairing up process if you are going to use this integration for these purposes:

7 - Test your integration before sharing your form: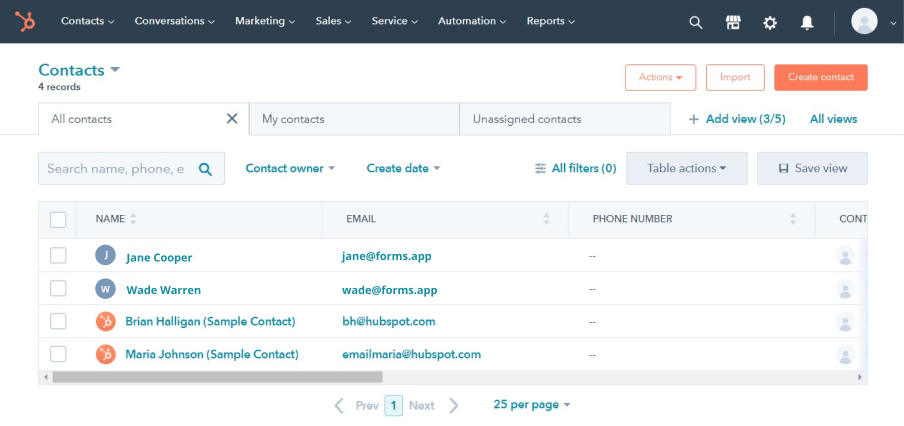 8 - Enjoy an enchanted marketing experience!
forms.app's HubSpot integration in action
Creating beautiful forms, integrating with HubSpot CRM, and embedding them on your website, all sound great, but how does it work in action? Well, awesome indeed. forms.app is an online form builder tool that you can use standalone for many purposes. But it works just as fine, if not better, with other applications in your workflow.
When integrated with third-party applications, forms.app does what it does best: get you data, leads, and eventually new customers. How can forms.app do all these? Let's break its use with HubSpot and other CRMs into categories and check each of them.

4 stages of the inbound marketing methodology
Email marketing
For quite some time, email marketing has been known for its effectiveness and ability to convert. And that is absolutely true. If you have a strong email marketing strategy, you can stay connected with your customers and leads all the time.
Creating catchy registration forms for collecting emails and other relevant information will get you more contact records, visitors to your website, and leads. And now, it is possible to sync all the data with HubSpot. When a visitor fills out your form, HubSpot will immediately create a contact or company and update information if the person is already registered. forms.app allows you to create forms tailored for every type of visitor and grow your email lists in a more powerful way.
Getting more leads
Online forms have always been an important tool for getting leads and then converting them into customers. The goal of forms.app is to make form creation easier for businesses and improve their effectiveness along the way.
By creating complex forms with conditions and calculator features, you can show or hide specific fields based on the visitors' answers. This will help you get the exact data you want while providing a seamless experience for page visitors. You can easily use forms.app as a part of your inbound marketing and integrate it with other apps for the perfect workflow.
With the Hubspot integration, you will be able to create deals automatically and close your sales with more success.
Improving customer service
Forms also play a huge role in customer support. Today, it is essential to provide a simple way for your customers to contact you. Contact forms get customer data in a standardized fashion and keep things organized. Plus, it is almost effortless to place your forms on landing pages, contact pages, or footers. With these advanced and modern forms, you will make your company more accessible and this will improve your brand image.
Stay tuned
Integrations do make a difference and make workflows incredibly easier. At forms.app, we are constantly listening to your integration requests and add them in a short span of time. If you like to use forms.app with your other everyday tools, please let us know and stay tuned for new integrations.