An increasing number of businesses use forms on their websites to get great benefits. It's a great way to get responses, and prompt people to engage with you. With forms.app, you can create an HTML form online, for free!
Why should you use HTML forms for your website?
There are many applications to an HTML form that you can embed into your website. Most of the benefits are situational and depend on how you use your forms. There are several forms you can add to your website, the main ones are the contact forms. We have guides on how to create a custom WordPress contact form, and there is useful information you can find there. Now, let's look at three vital reasons to build HTML forms:
1 - Targeted marketing
Lead generation is an important part of marketing. With HTML forms on your website, especially with contact forms, you may get lots of information that can later be used for targeted marketing. They also help you automate your business.
2 - Easier access to forms
Instead of linking a form, you'll have it ready on your website. People can fill out the form without having to go to another page. By using a free HTML form builder such as forms.app, it'll be even easier to put the code in. forms.app provides you with the embedding code in the "Share" section. Because the form will be embedded as Iframe, your website will be fast to load.
3 - Reach more people
By using a free HTML form generator and embedding the online form onto your web page, you can have more people engaging with your form. People appreciate of easier access. Seeing the form ready to be filled might prompt people to do just that. Removing even the smallest step might turn into a big profit. More people submitting the form means more information for you, such as categories, email addresses, and such.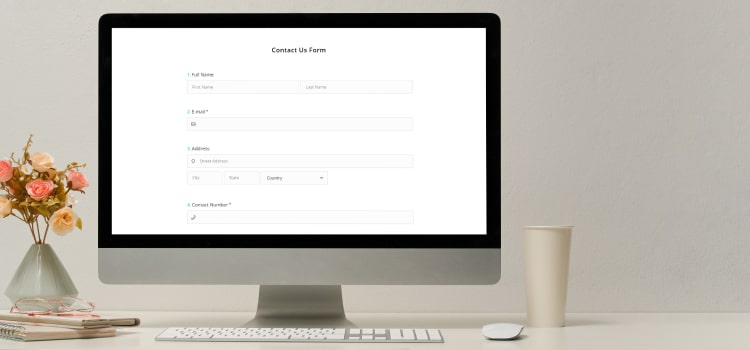 How to create web forms on forms.app?
Using our HTML form builder online for free lets you get the best-looking, most comprehensive form with minimal effort. Our HTML form maker will make the process feel like a breeze. There are things to consider when you create your web form, and we have numerous guides for you to check out! From beginning to the end, create your web form just like you would any other form!
Choose either a blank page or a template.
Start with the questions and answers.
Choose form fields accordingly.
Make use of conditional logic and additional field settings.
Design your form however you want.
Check out the "Settings" tab for form options.
How to embed your forms?
A web form is not that impressive if you don't embed it into your website. Oh, you do not know enough coding to do that and your person is on vacation? Worry not! forms.app has a great feature that will help you. Building using our HTML form creator for free, you'll notice more options such as going into the "Results" tab where you can see form submissions.
Afterward, stay in the "Form" page and choose "Share". There, you'll notice the option to "Embed as Iframe". On the following page, you can easily choose what you want your form to look like on your website, copy the following code, and paste it to have it embedded! Enjoy your HTML form!
Build HTML forms online
forms.app provides people with great features. From quizzes to web forms, many things are easier to do with forms.app. Web forms especially are easy to create and implement with forms.app. Using a web form might benefit you, and we intend to make the process even easier for you by providing some templates. Do not forget that you can reach all of our templates whenever you want, either from our templates page or as you start building a new form.