What is online survey software?
You probably already know what online survey software is. However, here's a small definition for you: "An online survey software is any web-based application that enables people to create online surveys, share them, and collect big sizes of data". However, if you are reading this here right now, it means that you are in need of some more specific information about online survey tools and how to pick the best one for your purposes. No worries! We will get into this subject deeply and some useful information on online survey software along with the best ones for 2022 will be included!
What makes an online survey maker more usable?
An online survey software, first of all, should be easy-to-use. It should let you create your surveys with minimum time and help you to focus more on collecting data.

The second big factor about online survey software is being able to set conditions for some questions. Well, nobody wants to answer the questions that are not meant for them right? An online survey software MUST enable its users to set up question logic and show/hide some questions according to the answers given to some previous ones.
Geolocation restriction is another important feature that an online survey software should have. Let us say that you are willing to conduct a survey only within a certain region. In this situation, you need to restrict your form submission to only people within that region so that you can collect responses from only relevant people and receive high-quality data.
Advanced data analysis is also a must for an online survey software to have. People should be able to track responses and put them into different charts and tables.
Another key features for an online survey software to have:
Customizable design elements
Various question types suitable for surveys, e.g Opinion scale, star rating, and multiple choice question types
Real-time data analysis
Multimedia answers
User-friendly UI
Where free survey software can be used?
There are many use cases of an online survey tool. It can be used to collect data and improve your services or maybe just for conducting market research. Here are some common use cases of online surveys:
and many more…
Best online survey tools
forms.app
forms.app is a very easy-to-use and well-rounded form builder & free online survey tool using which people can create surveys, add some of various question types, set conditions, share their surveys, and collect huge amounts of responses. It's one of the best free survey tools and with many different integrations via Zapier and Google Analytics, Facebook Pixel conversion tracking features, users can both put their data into charts and track how well their survey conducting process went.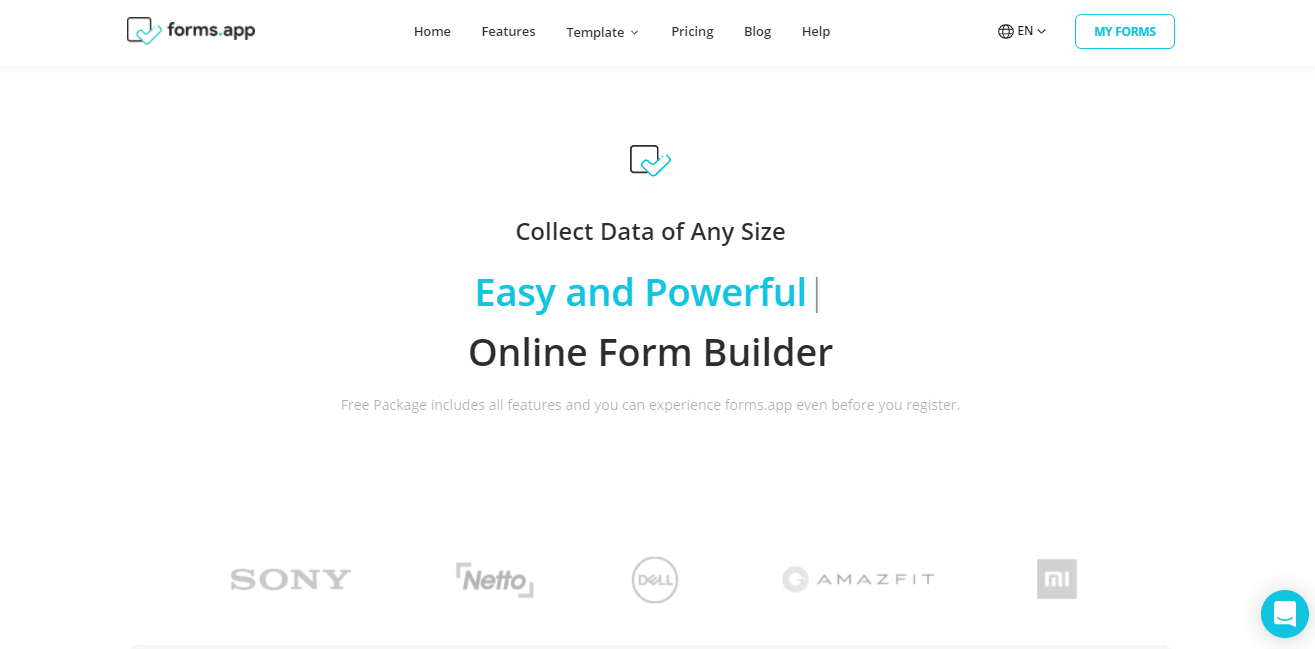 Prominent features:
Intuitive user-interface
Conditional logic
Geolocation restriction
Step View – show each question on a different page
Integrations with over 500 third-party apps via Zapier and Google Sheets
Google Analytics and Facebook Pixel conversion tracking
Fast customer service
Data exporting in different file formats
Google Forms
Google Forms is a free online survey maker using which you can create surveys for free and collect responses. It's totally a free survey maker and people who are asking "how to make a free survey" questions often land on Google Forms' page. With many basic features and question types, Google Forms is a good tool for creating online surveys and collecting data.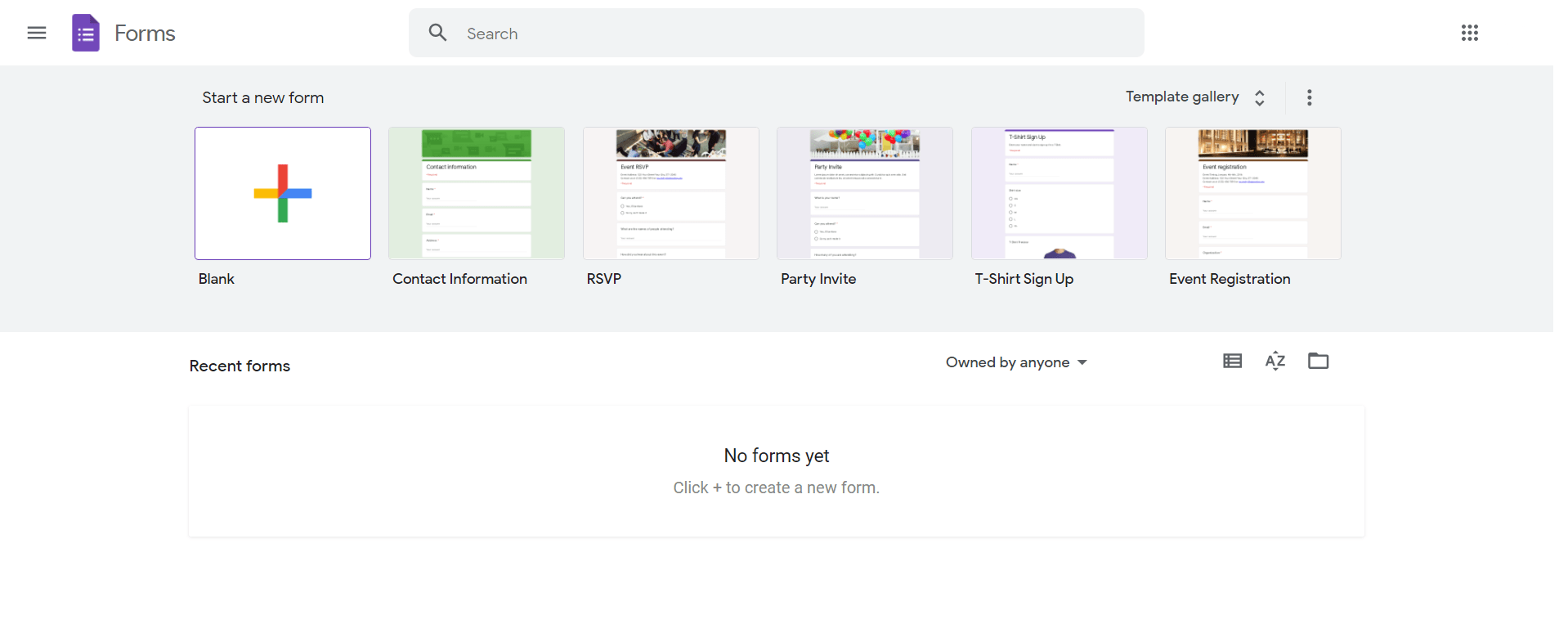 Prominent features:
Free survey tool
Unlimited questions
Conditional logic
Different question types
Integrations with Google Sheets
SurveyLab
SurveyLab is a survey software and questionnaire tool that presents easy reporting and data analysis functionalities. Various integration options such as Salesforce, Slack, LiveChat and Zendesk are available. It detects browser language automatically and it's a pretty much multilanguage supportive survey software.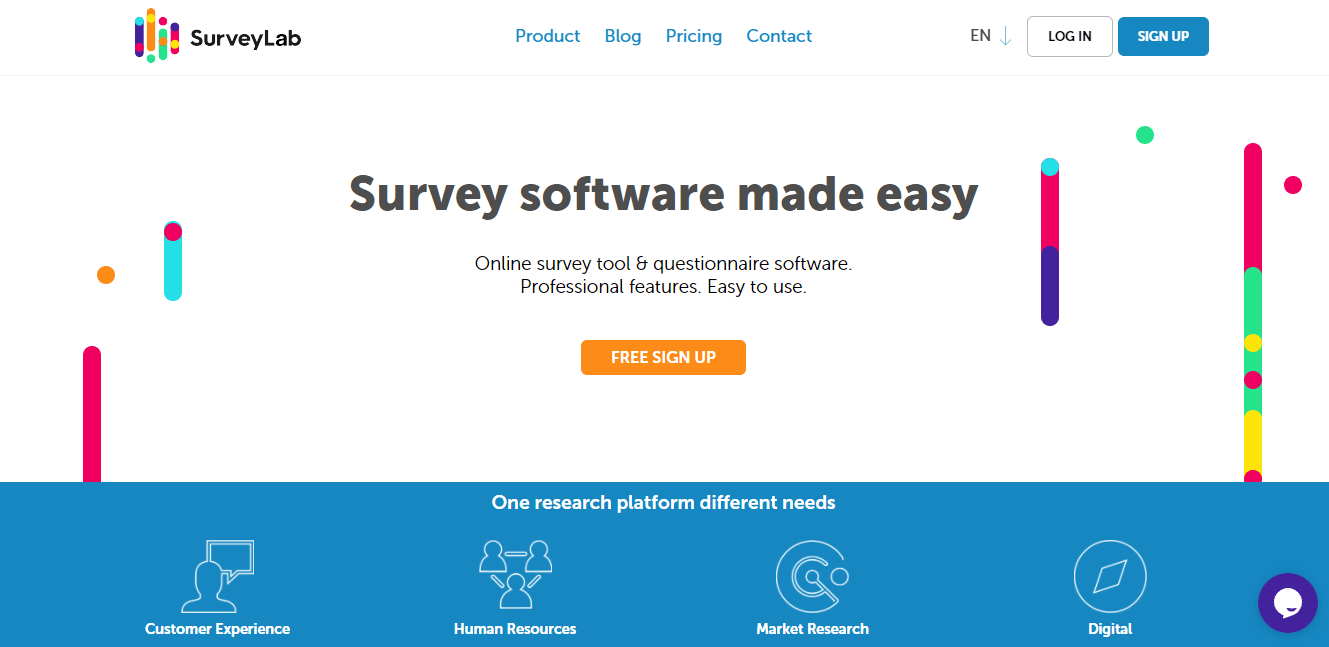 Prominent features:
Data analysis
Skip logic
Various question types
Custom Survey URLs
Audio/Image/Video support in surveys
Question branching


Survio
Survio presents nice survey solutions with many templates, question types, and data analysis features. Customizing surveys in terms of functionality and theme is possible. It also works on mobile phones, making it possible to create or answer surveys easily.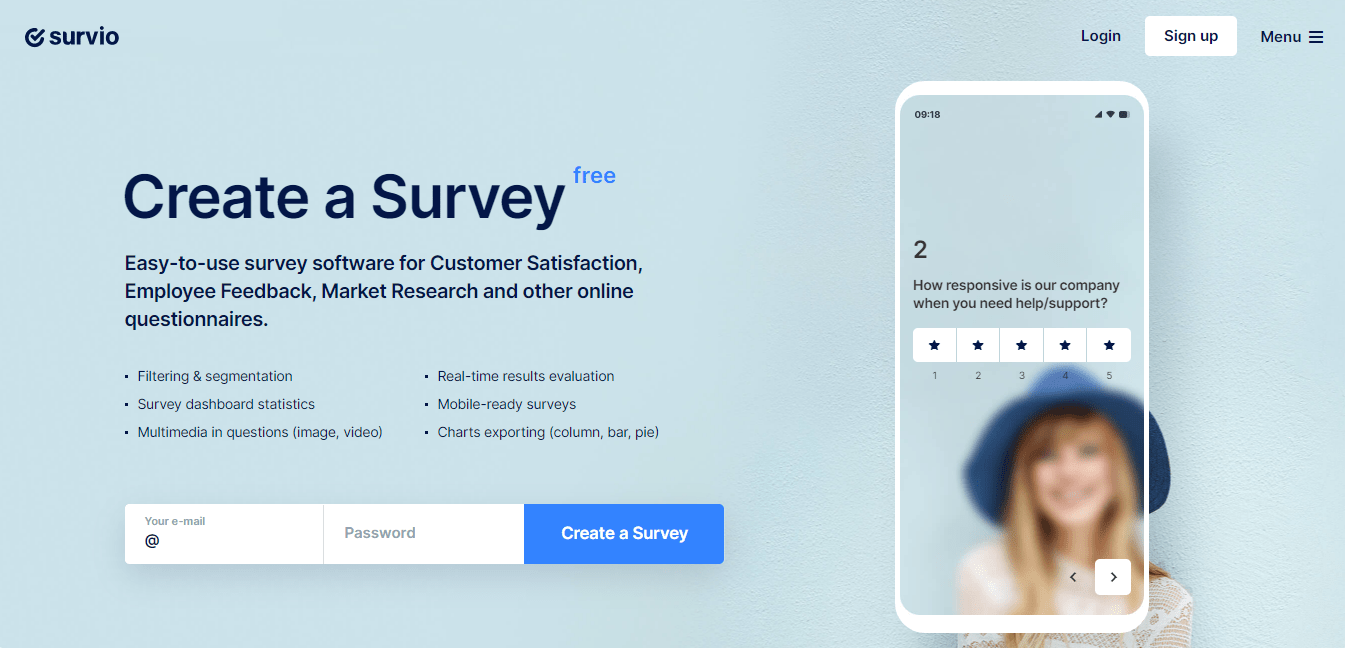 Prominent features:
Question requiring
Survey logic
Custom thank you page
Survey dashboard statistics
Customized survey URLs


SmartSurvey
With its user friendly and good tools, SmartSurvey presents an opportunity to create nice surveys and collect responses. Customizing and sharing surveys is possible with a few clicks. It's more suitable for simple surveys with various types of questions. The downside is that the free plan is only available for 14 days.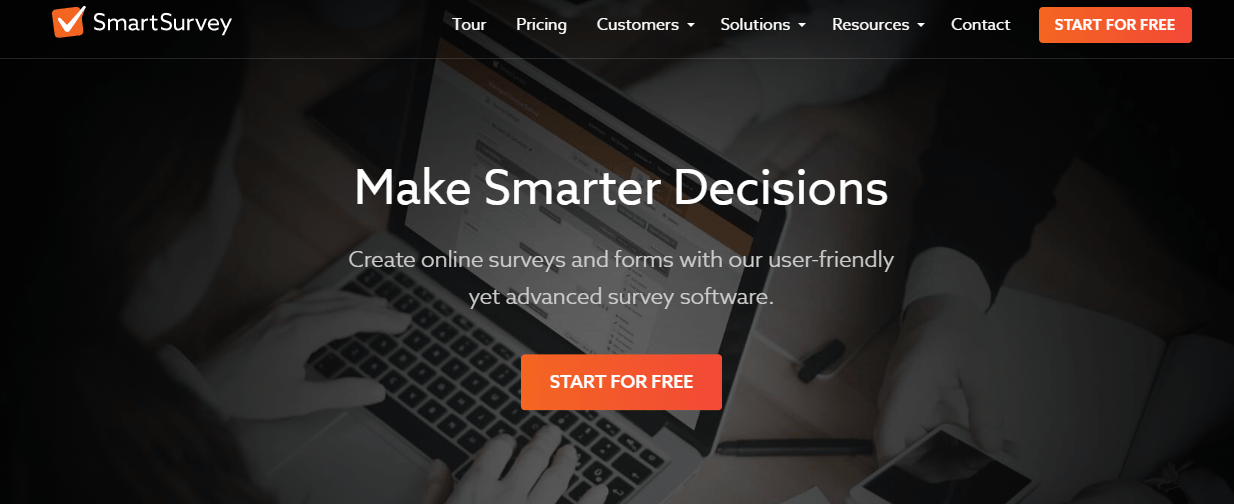 Prominent features:
Skip logic and actions
20+ question types
Multiple language surveys
Custom reports
Theme customization


QuestionPro
QuestionPro enables people to create nice and quick surveys such as feedback, customer satisfaction and market research. It offers quick and advanced features for creating and customizing forms. People can add new design elements such as logo, images, and fonts so that they can make their surveys compatible with their branding.

Prominent features:
Various question types
Question logic
Branding options
Real-time dashboard
Integrations with third-party applications


123FormBuilder
With a complex form builder page and narrow theme customization options, 123FormBuilder still presents various question types and data collection options. People can create surveys, collect responses, and monitor the reports of their survey in real-time. It is also possible to integrate your forms with third party applications and set automations.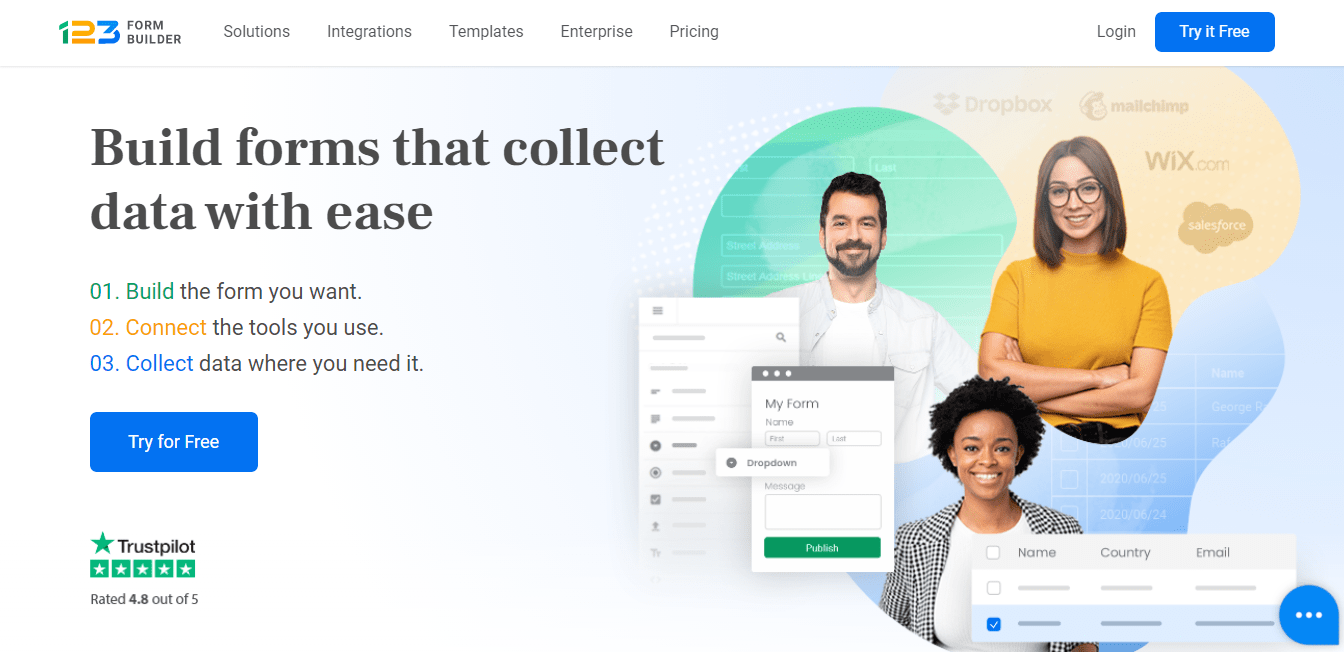 Prominent features:
Various survey templates
Conditional logic
Branding options
Multilingual surveys
Custom branding
Survey result dashboard


Conjoint.ly
Conjoint.ly enables you to collect insights from your respondents and monitor them in real time. It can be used to create surveys, collect data from your target audience and thus, to improve your products and services.

Prominent features:
Data collection
Result analysis
Branding options
Question customization




Do you want to create beautiful surveys and collect data instantly? Build your form, customize design, collect responses and do much more. Get started with forms.app right away!